Let Speakman help ensure your facility is up to codes & standards.

REDUCE RISK OF OSHA VIOLATION
Being OSHA Compliant has never been more important. For the first time in twenty-five years, OSHA penalties have increased by 80%. Our survey will ensure you remain compliant.

CREATE A SAFER WORK ENVIRONMENT
By appropriately updating your facility to code, you'll create a safer, more efficient work environment for your employees.

RECEIVE A FULL FACILITY EVALUATION
A trained Speakman Representative will arrive at your facility and conduct a detailed evaluation of your entire worksite to determine if you're up to code.

RECEIVE COMPLIANCY RECOMMENDATIONS
From recommended emergency products to maintaining your existing equipment, our representative will determine precisely what you need to update.

PHOTOGRAPHS OF EVALUATION
Our representative will deliver detailed photography of what equipment and what areas of your facility was evaluated.

A FULL REPORT OF YOUR EVALUATION
After the survey is complete, our representative will provide proper documentation of your entire evaluation.
Equipment for Any Facility
Choosing the right emergency equipment can be a complicated process.  When considering facility specification and ANSI codes and standards – selecting proper equipment can become daunting. 
That's why we've developed our Facility Survey program – a service where we evaluate your entire work site and provide detailed recommendations to becoming compliant.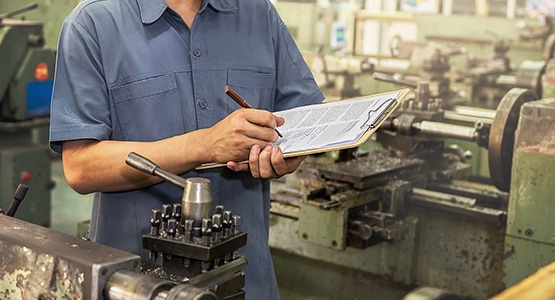 OPTIMUS:  ALL-IN-ONE EYE & FACEWASH
The only emergency station to feature a dedicate eyewash and facewash built into one singular design – Optimus delivers complete facial relief in the event of a chemical burn.
Plus, with the ability to be wall-mounted, pedestal-mounted, combined with an emergency shower or even configured to fit ADA standards – Optimus is perfect for nearly any application.
EYESAVER:  EYEWASH & FAUCET COMBINATION
Designed for laboratories, educational institutions, and commercial establishment – the Eyesaver faucet features unique installation configurations to meet your specifications.
Whether it be a science lab, janitorial closet or even a medical facility – our Eyesaver products are the prefect solutions for worksites in need of high-performing, ANSI Z.358.1 compliant equipment.
GRAVITYFLO:  PORTABLE EQUIPMENT
Regardless if it's a construction site or a refinery – the potential for chemical exposure is real. For facilities that lack a reliable water source, our GravityFlo Portable Eyewashes are the perfect solution.
Every GravityFlo unit delivers comfortable, effective sprays without being connected to a plumbing supply for 15-continuois minutes or more.  This ensures your facility will meet ANSI standards.
Virtual Site Survey Now Available!
Ask about our virtual site survey and how we are working to keep your facility and employees safe.